Anthony Fauci at NIH (and his wife Christine Grady who runs the bioethics department) were in charge when the following was happening:

https://www.npr.org/templates/story/story.php?storyId=4669470
Link to Anthony Fauci's Resume to correlate times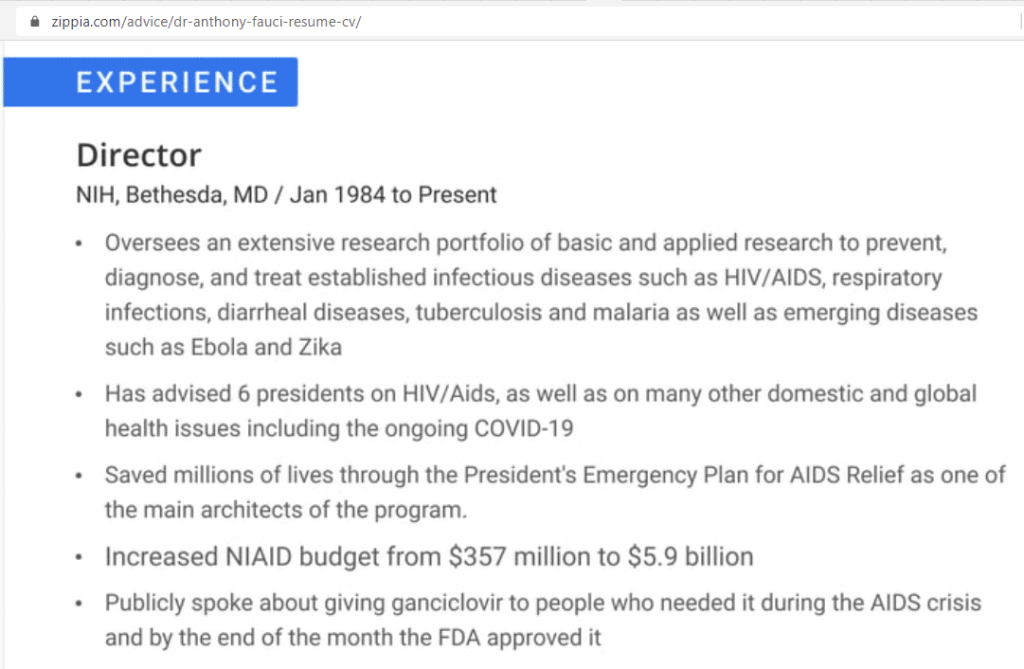 Patents by Anthony Fauci:

https://patents.justia.com/inventor/anthony-s-fauci
March 2004.
Phase I Drug Trials Used Foster Care children in Violation of 45 CFR 46.409 and 21 CFR 50.56
http://www.ahrp.org/ahrpspeaks/HIVkids0304.html
Vera Sharav of the Alliance for Human Research Protection (AHRP) called for a Federal investigation into Incarnation Children's Center, and the NIH's Pediatric AIDS Clinical Trials program.
The AHRP letter contends that Federal Regulations regarding the use of children and wards are being
violated.
The legal portal Justia.com lists the following "patents by inventor Anthony S. Fauci" involving a glycoprotein found in the HIV-1, a disease that attacks the human immune system, leading to the Acquired Immune Deficiency Syndrome, more commonly known as AIDS. In 1990, Fauci held the same position at the NIH that he holds today. Fauci made his mark around the anti-viral medications that were developed by Big Pharma to combat the AIDS epidemic raging at that time.
This same glycoprotein, identified as Glycoprotein 120, or simply as GP120, has also been found to be a key component of the current COVID-19, a disease that appears to combine a HIV-1 attack on the human immune system, with SARS CoV-1, the pathogen from the original SARS ("Severe Acute Respiratory System") that created an international pandemic in 2002-2003. The pathogen in COVID-19 is named SARS CoV-2 in medical scientific literature.
The four patents on which Fauci is named as an inventor are the following:
Patent Number: 9896509, patent granted August 3, 2016. "Use of antagonists of the interaction between HIV120 and ?4?7 integrin.
Publication Number: 20160333309, patent application filed August 3, 2016. "Use of Antagonists of the Interaction Between HIV GP120 and A4B7 Integrin.
Patent Number: 9441041, patent granted September 13, 2016. "Use of antagonists between HIV GP120 and ?4?7 integrin."
Publication Number 2016007586, patent application filed September 21, 2015. "Use of antagonists of the Interaction Between HIV GP120 and A4B7 Integrin."
https://web.archive.org/web/20201125205644/https://www.biorxiv.org/content/10.1101/2020.01.30.927871v1.full
https://web.archive.org/web/20201120164124/https://corsination.com/fauci-patents-on-hiv-covid-19-components/
AND! If that's the case (it isn't), then why would Forbes be posting articles like this in October of last year:
"Researchers Warn Some Covid-19 Vaccines Could Increase Risk Of HIV Infection"
https://www.forbes.com/sites/roberthart/2020/10/20/researchers-warn-some-covid-19-vaccines-could-increase-risk-of-hiv-infection/?sh=66c825b33740
NIH Documents on the 'Gain of Function Research' (which led to the development of Covid-19):
​https://osp.od.nih.gov/biotechnology/gain-of-function-research/ (Alt Link)
​⁠https://projectreporter.nih.gov/project_info_history.cfm?aid=9819304&icde=49508764 [R01AI110964-06] (Alt Link)
https://taggs.hhs.gov/Detail/AwardDetail?arg_AwardNum=R01AI110964&arg_ProgOfficeCode=104 (Alt Link)
After checking out the links above, you'll finally understand where the 'bat' soup rumor came from. It is impossible to contract Covid this way. They had to bring the bat into a lab and grow the bat virus on human fibroblast (lung tissue) in order to make it jump from bats to humans. It was genetically engineered under Fauci's 'Gain of Function' research.
Lonza (who is in partnership with Moderna to create billions of the covid vaccine) actually has samples for sale.Ta da!
https://bioscience.lonza.com/lonza_bs/US/en/Primary-and-Stem-Cells/p/000000000000184921/NHLF-%E2%80%93-Human-Lung-Fibroblasts
(Moderna also lists the Bill & Melinda Gates Foundation as Strategic Collaborator.)
What a circle-jerk, huh?
Sure does paint a CLEAR as Day picture now how these guys fit in https://www.armiusa.org/ though:


Read more about ARMI, Microsoft and Johnson & Johnson here.